Riedel Vinum Tasting Set of 4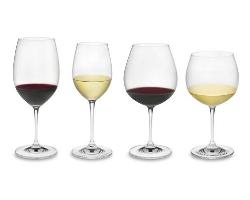 Product Description
NOTE: Due to factors beyond our control, we have had to increase the shipping price for US residents to $20.00 per set, even though your coupon may state $15.00. We apologize for any inconvenience this may cause.

This tasting set is an excellent introduction to Riedel stemware, the choice of wine connoisseurs worldwide. Offering four different glasses for sampling a wide selection of wines, it's an ideal way to begin a Riedel collection or to supplement an existing collection.

Each lead-crystal glass is from Riedel's Vinum series of stemware, shaped to enhance the characteristics of specific varietals. The set includes one of each glass:

21.5-oz. Bordeaux, for complex reds including Merlot and Cabernet
12.4-oz. Sauvignon Blanc, for light to medium-bodied white wines
24.7-oz. Burgundy, for medium-bodied reds such as Pinot Noir, Burgundy and Beaujolais
21.1-oz. Montrachet, for rich, full-bodied whites such as Pouilly-Fuiss and Chardonnay

Made in Austria. Set of four.

NOTE: If you are redeeming the coupon you received on board, simply click the Add to Cart button above, then enter your coupon number in the promo code field in the shopping cart. Your discount will be automatically applied. Please note only one coupon may be redeemed per order. If you have more than one coupon to redeem, you must complete separate orders for each individual coupon. Please enter only one coupon code per order.

We ship to the following Countries outside of North America:

Austria, Australia, Belgium, Bermuda, Bulgaria, Cyprus, Czech Republic, Denmark, Estonia, Findland, France, Germany, Great Britain, Greece, Hungary, Ireland, Italy, Latvia, Lithuania, Luxembourg, Malta, Netherlands, Norway, Poland, Portugal, Puerto Rico, Romania, Slovakia, Slovenia, Spain, Sweden, Switzerland, and US Virgin Islands.